Regular price
Sale price
$38.00 USD
Unit price
per
Sale
Sold out
Our honey sampler is the perfect gift for friends and family with a sweet tooth! Our Clover, Orange Blossom, and Sourwood honeys are raw and unprocessed, as close to the hive as you can get!
Honey Sampler is a unique and delicious set of three 1lb jars of the finest honeys. Each jar contains a distinct flavor of honey, carefully selected to offer a diverse range of tastes and aromas.
The first jar in the sampler is Clover Honey, sourced from the beautiful Middle Tennessee. This classic sweet honey is made from the nectar of clover flowers and is light in color with a mild, sweet flavor. It's a perfect choice for sweetening tea or coffee.
The second jar is Orange Blossom Honey, harvested from the orange groves in the sunny state of Florida. This vibrant honey has a fruity and floral aroma, with a tangy taste and a subtle citrus afternote. It's a great ingredient for baking and cooking.
The third jar is Sourwood Honey, proudly made from the nectar of the sourwood tree in East Tennessee. This rare and unique honey has a dark color and a rich, buttery flavor with a unique earthy note, making it a perfect addition to sauces, marinades, and glazes.
This Honey Sampler is an ideal gift for honey lovers, foodies, and anyone who loves to experiment with new flavors. All of the honeys are 100% pure, raw and natural, with no added sugars or preservatives. Get yours today and taste the difference of truly authentic, regionally sourced honey!
Clover, Orange Blossom and Sourwood; 1lb jar of each.
Shipping Info

Shipping Requirements and Pricing

PLEASE NOTE :

-During the Summer, Poke Sausage is only available to pick up in store!

-During the Holiday Season (Nov 1st - Dec 31st) Please allow up to one week for processing of your order

Common questions and a bit about our products:

Our products travel very well! Our ham and bacon is dry cured, and those meats along with our summer sausage do not require any refrigeration at all and can be stored at room temp. 

Our sausage is smoked and cured and can stay out of refrigeration for up to 7 days, although most shipping trips are much less than that. 

 

Merchandise prices do not include shipping.

Shipping Rates:

Ground shipping per box per address in the mainland United States are as follows:

$9.99 flat rate; Free Shipping on orders over $250

If you're shipping to Alaska or Hawaii, we charge the actual shipping costs that we pay. We are happy to accommodate, just please give us a call at 1-800-523-2015 and we will get you a quote.

 

Extra Delivery Services

We do offer an Express Option which might get your package to it's destination a bit quicker, although we can't guarantee the transit time. That price is $39.99 per box per address.

Substitutions:

We reserve the right to substitute items of equal or greater value in our gift boxes based on availability.
Refrigeration

Country Ham & Bacon are dry cured products. They do not require refrigeration, and have a shelf life of 3 months. Refrigerating once the product is recieved will extend the quality and life of the product. Once the seal is broken, please use within 5 days.

Sausage is cured and smoked the old fashioned way. Our sausage can stay outside of refrigeration for 7 days, allowing us to ship without a freezer bag during the colder months. Please freeze all sausage once the package arrives. When ready to use, thaw the sausage naturally for 10-15 minutes to cut into patties (when slightly frozen it slices easier). It can be refrozen when thawed naturally.

All products are USDA inspected and meet all USDA shipping requirements for safety.
Share
View full details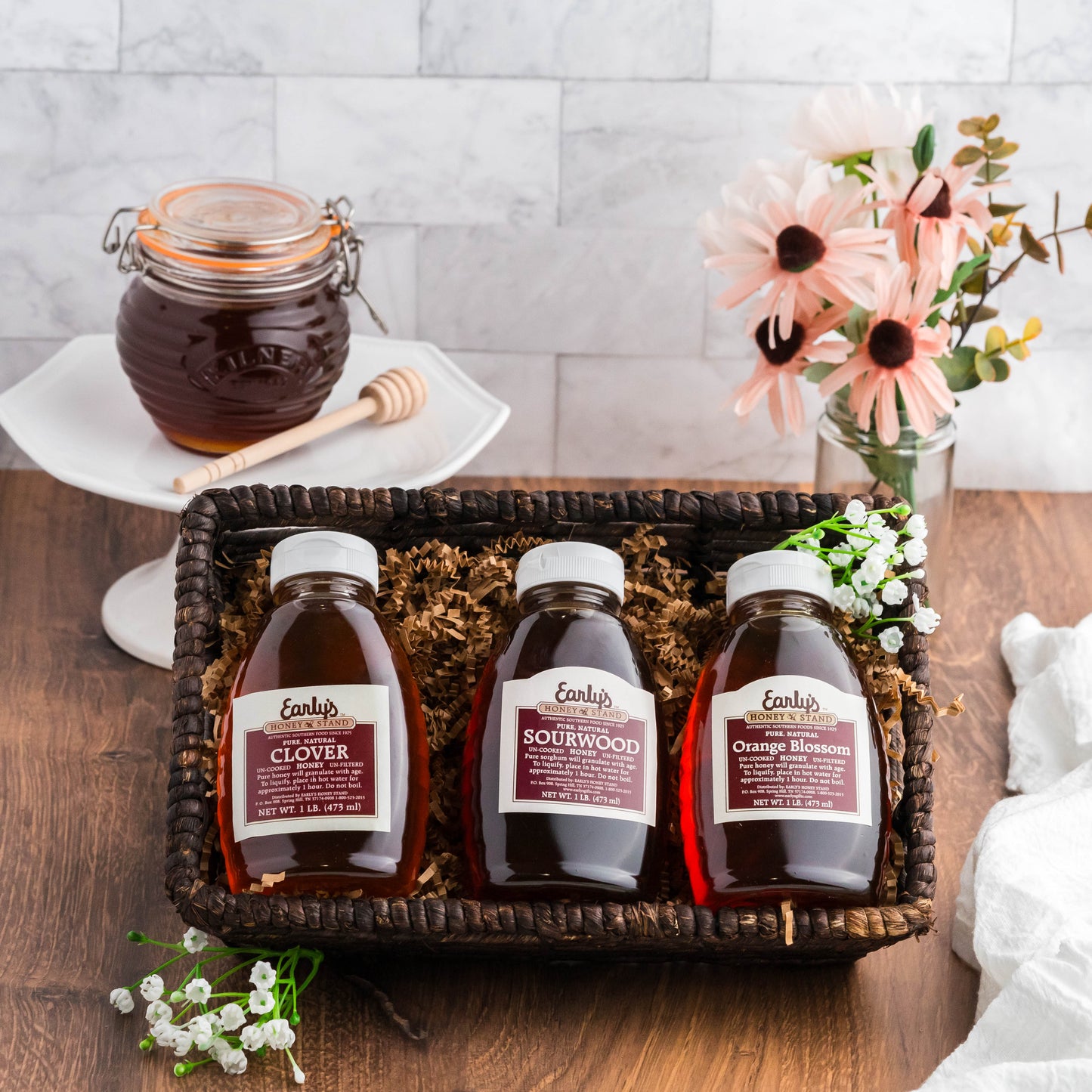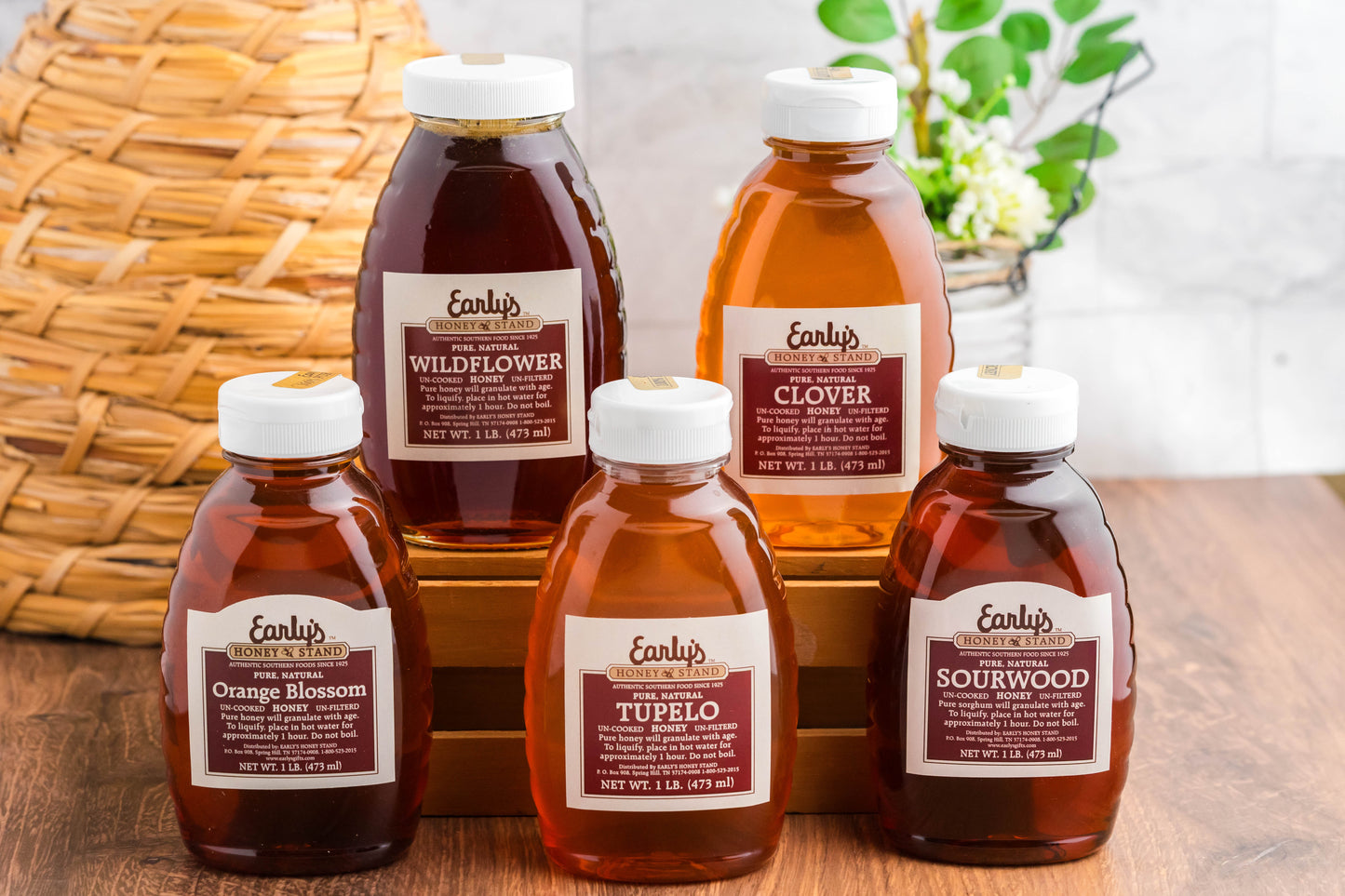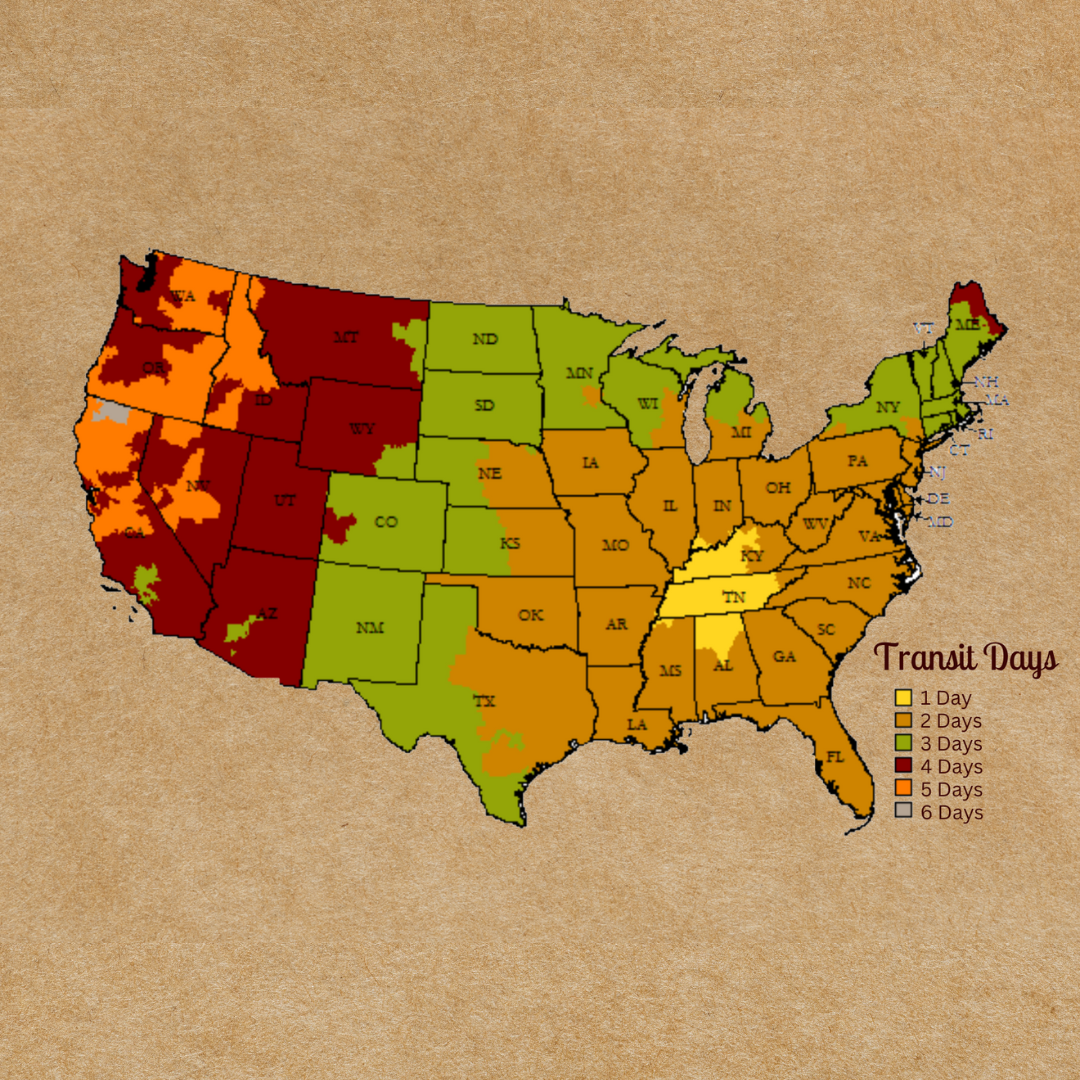 Current Transit Times
These are the current Transit Times for the lower 48 States. Once your order is processed and shipped, it should arrive within the time frame listed here. Unfortunately some orders do see delays, so this map is to be taken as an estimation.
During the holiday season, please allow up to 1 week for order processing.