Regular price
Sale price
$25.00 USD
Unit price
per
Sale
Sold out
Picture this: it's a beautiful morning in the heart of the South, and you're looking forward to a delicious and hearty breakfast. As you walk into your kitchen, the aroma of bacon and biscuits fills the air, and your mouth begins to water.
But something is missing. You need something a little more special, a little more savory. That's where Early's Honey Stand's Center Cut Country Ham comes in.
These 2-pound center cuts are carefully selected from the center of our 16-pound Country Hams, providing you with the most meat of any ham cut. And with the bone-in and rind-on, you're getting the full flavor and traditional Southern taste that our hams are famous for.
Whether you're looking to bake your ham to perfection in the oven or prepare it on the stovetop, our Center Cut Country Ham is the perfect choice. It's versatile, delicious, and easy to prepare, making it a great option for any meal, any time of day.
At Early's Honey Stand, we take pride in our commitment to quality, tradition, and flavor. We've been serving up our hams to satisfied customers for nearly a century, and we're confident that you'll love them just as much as we do.
So why wait? Bring home the taste of the South with Early's Honey Stand's Center Cut Country Ham today, and experience the authentic flavors that have made our hams a beloved staple of Southern cuisine for generations.
 One package of 2# ham
Shipping Info

Shipping Requirements and Pricing

PLEASE NOTE :

-During the Summer, Poke Sausage is only available to pick up in store!

-During the Holiday Season (Nov 1st - Dec 31st) Please allow up to one week for processing of your order

Common questions and a bit about our products:

Our products travel very well! Our ham and bacon is dry cured, and those meats along with our summer sausage do not require any refrigeration at all and can be stored at room temp. 

Our sausage is smoked and cured and can stay out of refrigeration for up to 7 days, although most shipping trips are much less than that. 

 

Merchandise prices do not include shipping.

Shipping Rates:

Ground shipping per box per address in the mainland United States are as follows:

$9.99 flat rate; Free Shipping on orders over $250

If you're shipping to Alaska or Hawaii, we charge the actual shipping costs that we pay. We are happy to accommodate, just please give us a call at 1-800-523-2015 and we will get you a quote.

 

Extra Delivery Services

We do offer an Express Option which might get your package to it's destination a bit quicker, although we can't guarantee the transit time. That price is $39.99 per box per address.

Substitutions:

We reserve the right to substitute items of equal or greater value in our gift boxes based on availability.
Refrigeration

Country Ham & Bacon are dry cured products. They do not require refrigeration, and have a shelf life of 3 months. Refrigerating once the product is recieved will extend the quality and life of the product. Once the seal is broken, please use within 5 days.

Sausage is cured and smoked the old fashioned way. Our sausage can stay outside of refrigeration for 7 days, allowing us to ship without a freezer bag during the colder months. Please freeze all sausage once the package arrives. When ready to use, thaw the sausage naturally for 10-15 minutes to cut into patties (when slightly frozen it slices easier). It can be refrozen when thawed naturally.

All products are USDA inspected and meet all USDA shipping requirements for safety.
Share
View full details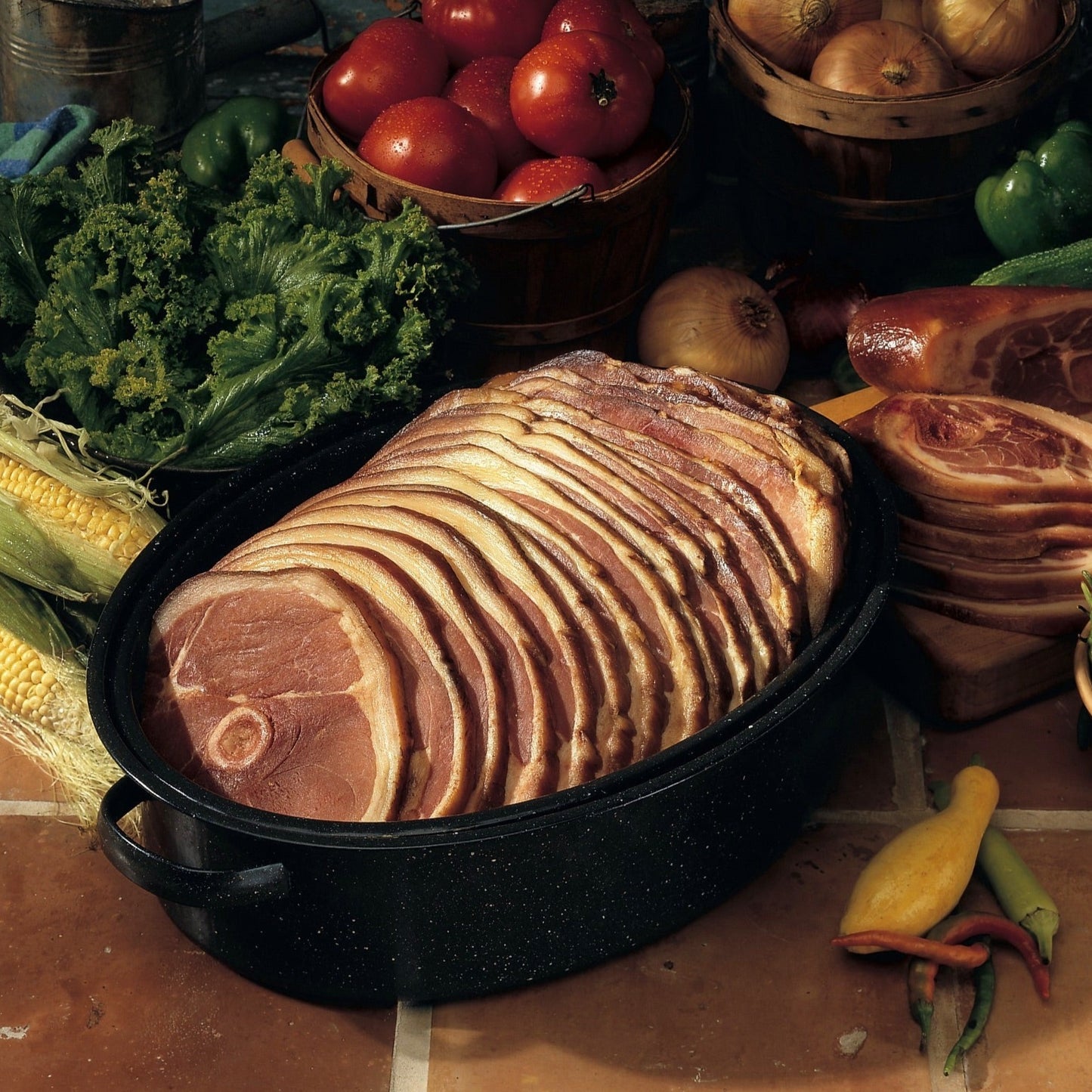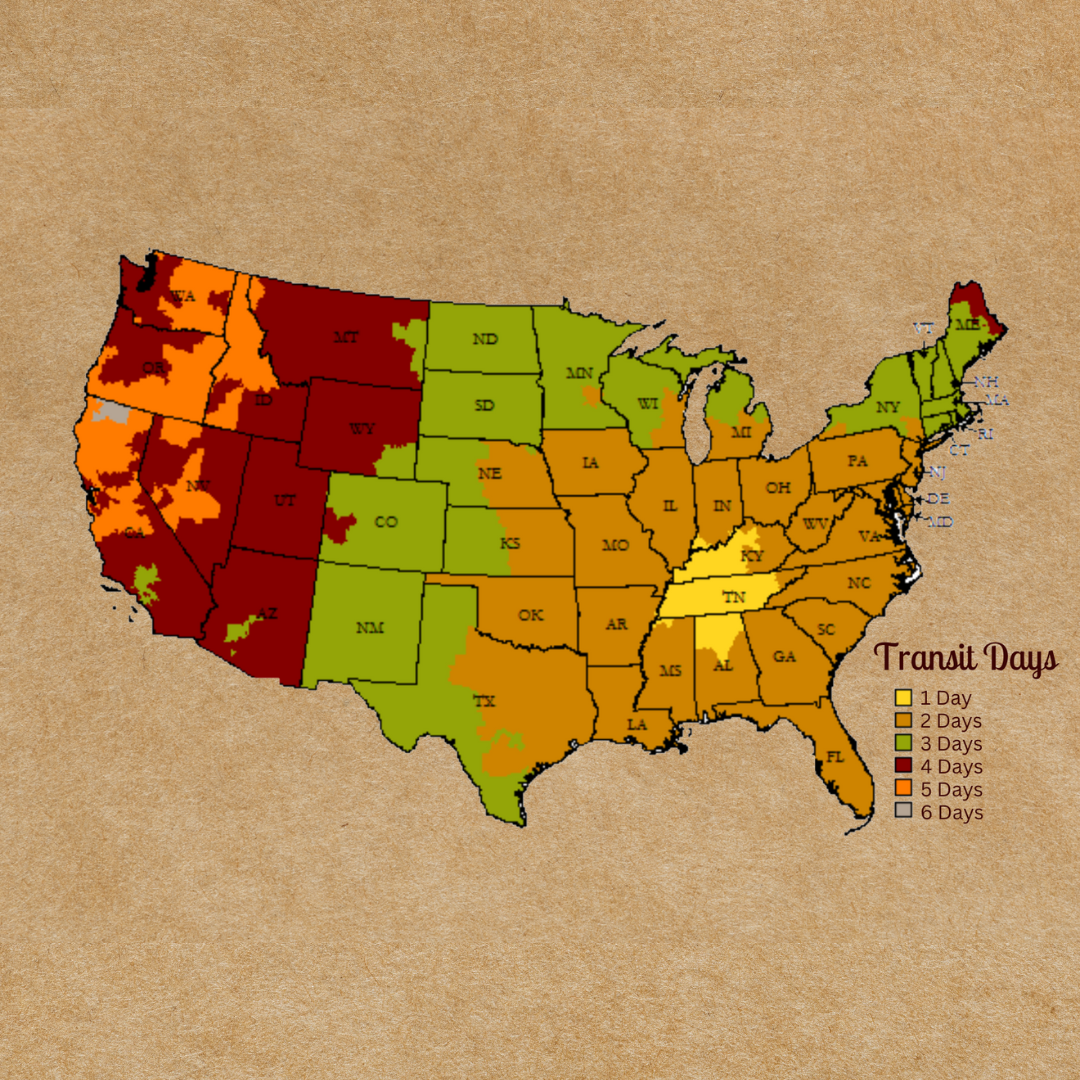 Current Transit Times
These are the current Transit Times for the lower 48 States. Once your order is processed and shipped, it should arrive within the time frame listed here. Unfortunately some orders do see delays, so this map is to be taken as an estimation.
During the holiday season, please allow up to 1 week for order processing.